The classic Basque country tour

Discover a country of history and legends !


The classic Pays Basque tour comprises point to point and loop rides. You're going to stay 2 days and 2 nights in each base : 3 beautiful Basque villages.
Each day from your base you start for a daily loop ride tour. You're going to ride on smalls country roads in the hills of Basque country.
There is little traffic. All loop rides have optional shortcuts.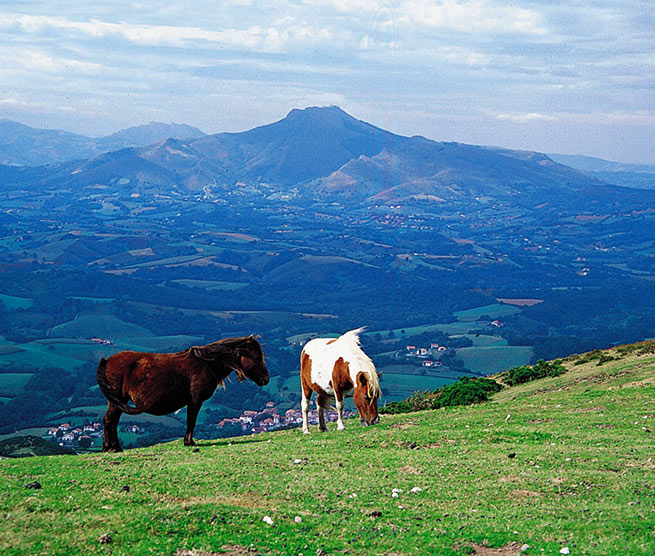 The Classic Pays Basque tour is an awesome tour in the hills of Basque country.
From the Pyrenees foothills to the Atlantic coast, you're going to see some breathtaking scenery and a country rich in history and legends. You're going to visit some of the most beautiful villages of Basque country where traditions and Basque culture are still alive.

7 days tour : 100 Euros / person.
Option 2 extra days : 20 Euros / person

Bike rental
Touring equipment : Handle-bar bag, helmet, lock, puncture kit, bottle
Itineraries
Touring marked map
This rate does not include :

Hotels and accomodations : Please ask for our hotels & accomodations selection in the villages of your tour
Luggage transfer : 50 Euros per transfer, includes up to 5 bags (+5 Euros per add. bag) – regardless of number of people.
* 7 days tour = 4 luggage transfers.
* Option 2 extra days = 2 luggage transfers.
Waterproof panniers : 20 Euros per pair per trip (if you wish to carry your own luggage).

Do you know the Basque language is very important for the Basque people?
Basque people call themselves "Eskualduna", which means "Who speaks Basque language".

So, these are some words in "Euskara" (Basque language) :
Egun on [égoun one] : Hello
Ikus arte [ikouch alte] : Good bye
Laster arte [lachtèr alte] : See you later
Milesker [milèchkèr] : Thank you
Milesker anitz [milèchkèr anitze] : Thank you very much
Deusetaz [déouchétaz] : You're welcome
Barkatu [barkatou] : Excuse-me
Nun [noun] : Where?
Nola : How?
Zenbat [sènbate] : How much?
Pixka (bat) [pichka (bate)] : A little
Gasna [gachna] : Cheese
Ardi gasna [ardi gachna] : Sheep cheese
Xingara [chinegala] : Ham
Mendia [mèndi] : Mountain
Herria [héria] : Town
Herriko etxea [hériko ètchéa] : Town hall
Eliza [élissa] : Church
You've already haD an idea of bike tour ?
We help you to custom yout own bike tour.